Delicacies that put a smile on your face
The story of Puistola begins with the siblings Sari-Helena and Seppo. The roots of their restaurant entrepreneurship goes back to 1979 when Seppo opened Pizzeria Cantina. A decade later Sari-Helena followed and opened Street Cafe restaurant. The siblings joined forces in 1992 when they formed the company Buca-Rest Oy and Pannupizza (currently Restaurant Pannu) was opened.
In the midst of 2009's global recession Puistola was born. Throughout the years the gorgeous building of Puistola designed by architect Harald Anders has been a home to many different cultural activities. One of them being the first theater of moving pictures in Oulu – Urania. From there comes the ambition of Puistola – to serve the full experience of a movie theater through the food and environment.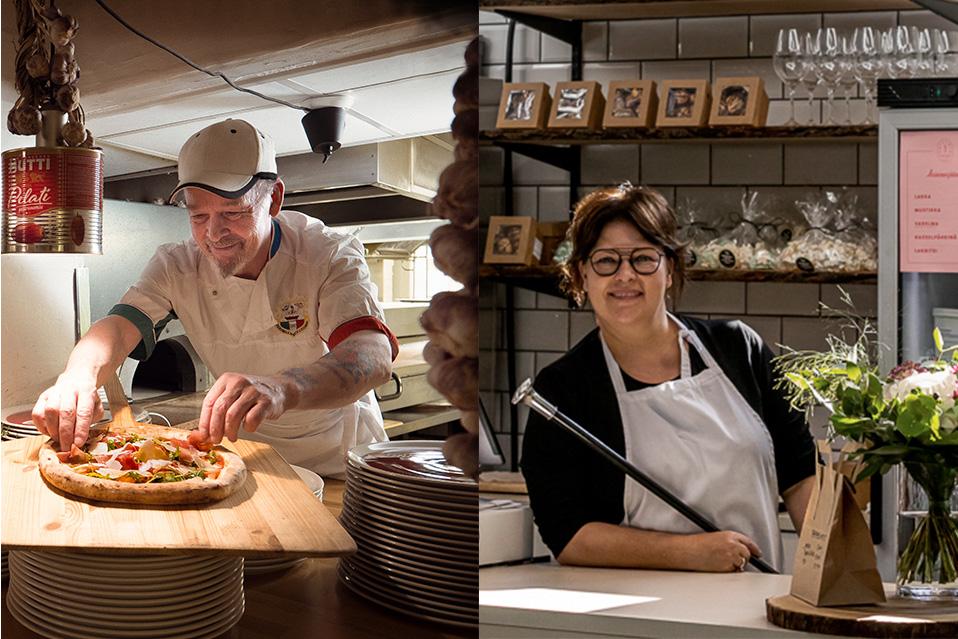 LOCALNESS AND NORDIC IN THE CORE VALUES
Like the history of the beautiful Jugend building, Puistola has gone through many phases. In 2013 the downstairs fine Dining restaurant turned into a custom restaurant – serving customers by their private events and needs. At the same time the upstairs restaurant Bistro's menu was updated to serve dinner as well. In 2015 the legendary Pizzeria Cantina made a comeback with artisan pizzas and was opened downstairs of Puistola. The same year Puistola was granted the shields of the international gastronomy organisation La Confrérie de la Châine des Rôtisseurs Finland, which is the highest recognition for a restaurant to receive in Finland.
The global covid-19 pandemic closed down the restaurant in spring 2020. The lockdown period was used efficiently; through a huge renovation the pizza oven was moved to the street level and so the Puistola x Cantina concept was born. Now all the treats can be served on the same floor, delicious artisan pizza and the à la carte menu can be enjoyed at the same table! In addition Puistola's Bakery shop was opened into the renewed market hall of Oulu making you able to enjoy the delicious self made treats even closer to the sea.
Puistola was created with a strong professionality and high ambitions and nothing has been compromised since. Food is approached with appreciation, passion and knowledge. The restaurant is an experience for all senses within the environment, service and food. Multiple services from morning until evening with the delicious self made savoury and sweet treats keep our customers delighted from one day to another.
The carrying values of Puistola are passion, hand craft and high quality. Appreciation for the local knowledge and craft is seen in the choices of partner companies and staff. Puistola was founded by siblings and today two generations of the family are engaged in the business, truly making it a family company.
Puistola is shedding light to the restaurant culture of Oulu by moving forward with their setted values. Customers will be served with professionality, sensibility, care and well made food.
Welcome to enjoy!